Workwear rental and laundry service
Effective protection in all conditions
Textile rental and laundry is a service addressed for all type of industries. Our broad knowledge and experience allow us to adopt to every type of industry and specificity of each client. Outsourcing workwear management allows our clients not only to optimize the costs but also guarantees that every quality norm for the industry is abided. What is more, workwear leasing allows our clients to estimate the costs per each employee accurately.
To offer the highest possible quality of service, in our laundries we have implemented the Risk Analysis Biocontamination Control system- RABC. Implementing RABC guarantees safety and highest microbiological quality of our textiles.
We provide workwear and protective clothing for clients in every branch of industry. Knowing the industry, we may offer and produce clothing that will suit every workstation while keeping proper protection at the same time. The complete service comprises of timely deliveries, necessary repairs and rental of clothing lockers. Offered products are compatible with quality norms such as BRC, IFS or HACCP. Our wide range of products consist of workwear for production sites, technical workwear as well as protective clothing including antistatic and flame retardant workwear.
HOW WE WORK?

WHAT IS NEXT?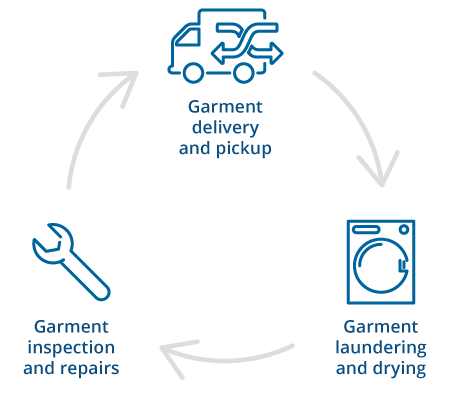 The highest quality
of service
The highest quality of service is confirmed by RABC certificate

Costs
optimization
Workwear rental allows you to avoid costs of investing in clothing and laundry machines which directly helps you to control money flow in your business

Trust
and confidence
By timely deliveries we provide constant access to clean workwear. In case of any damages the garment is repaired or replaced with new clothing